CELEBRATING OUR NEW STATEMENT SHADE ORANGE WITH PERNILLE ROSENKILDE

Joining the familiar and iconic silhouettes of NORA, BELLA and ALESSA, this striking, yet vintage inspired, colourway is the perfect addition to the neutral and earthy tones that regularly underscore AGNEEL's signature palette. A homage to liberation, imagination and creative spirit, this bold hue evokes a playful confidence that makes it stand out from the crowd. Lending a contemporary edge whilst channelling a sense of retro nostalgia, the orange colourway will be accompanied with subtle gold hardware details.
In celebration of our new orange colourway, we are excited to share this moment with Copenhagen-based influencer Pernille Rosenkilde, as she talks of her passion for this bright hue and how she will be styling it this season.

Hi Pernille! It's lovely to be speaking with you. For those who don't know you yet, could you tell us a little about yourself?
Hi! I am a Danish influencer, stylist and vintage shop owner based in Copenhagen. I also recently started my own brand Per and the zoo, so all in all working as a creative spirit. I have been working on fashion magazines for the last six years so felt like it was time to focus more on my own business. I was educated as a designer before I started in the magazine business, so starting up a small brand feels so natural to me.

We adore your style. How exactly would you describe your aesthetic and how has your style evolution influenced the way you dress today. Can you talk us through this journey?
My boyfriend thinks I dress as a mix of a fancy old lady and a kindergartner. I guess that is pretty accurate! I am always wearing very colourful outfits, mainly because it makes me happy and why not start the day off on a happy note? I have been dressing crazy and colourful all my life. Actually, I started thrift shopping when I was in my early teens because I didn't have enough money to just buy the fancy clothes I wanted, so I started thrifting and remaking old things. I guess my creativity with outfit started then. I also started making my own clothes and this state of mind has followed me.

It's no secret fashion holds great value in lifting our mood and the way we feel about ourselves through self-expression and evoking confidence. What does fashion personally mean to you and what makes it so special?
Many of my sweet followers sometimes send me a message saying that they are afraid to express themselves and wear colourful outfits. These messages make me a bit sad. I wish for everyone that they can get up in the morning and wear whatever feels right and will lift their mood. Life is too short not to do what feels right to you. For me, wearing black makes me feel less strong, so I don't. No matter what gives you strength, just do it. During my teens, I was teased a bit in school because I dressed differently, but who cares. If you are afraid to be looked at, just try to think that maybe they are looking at you and think you look awesome and are being encouraged to be free themselves.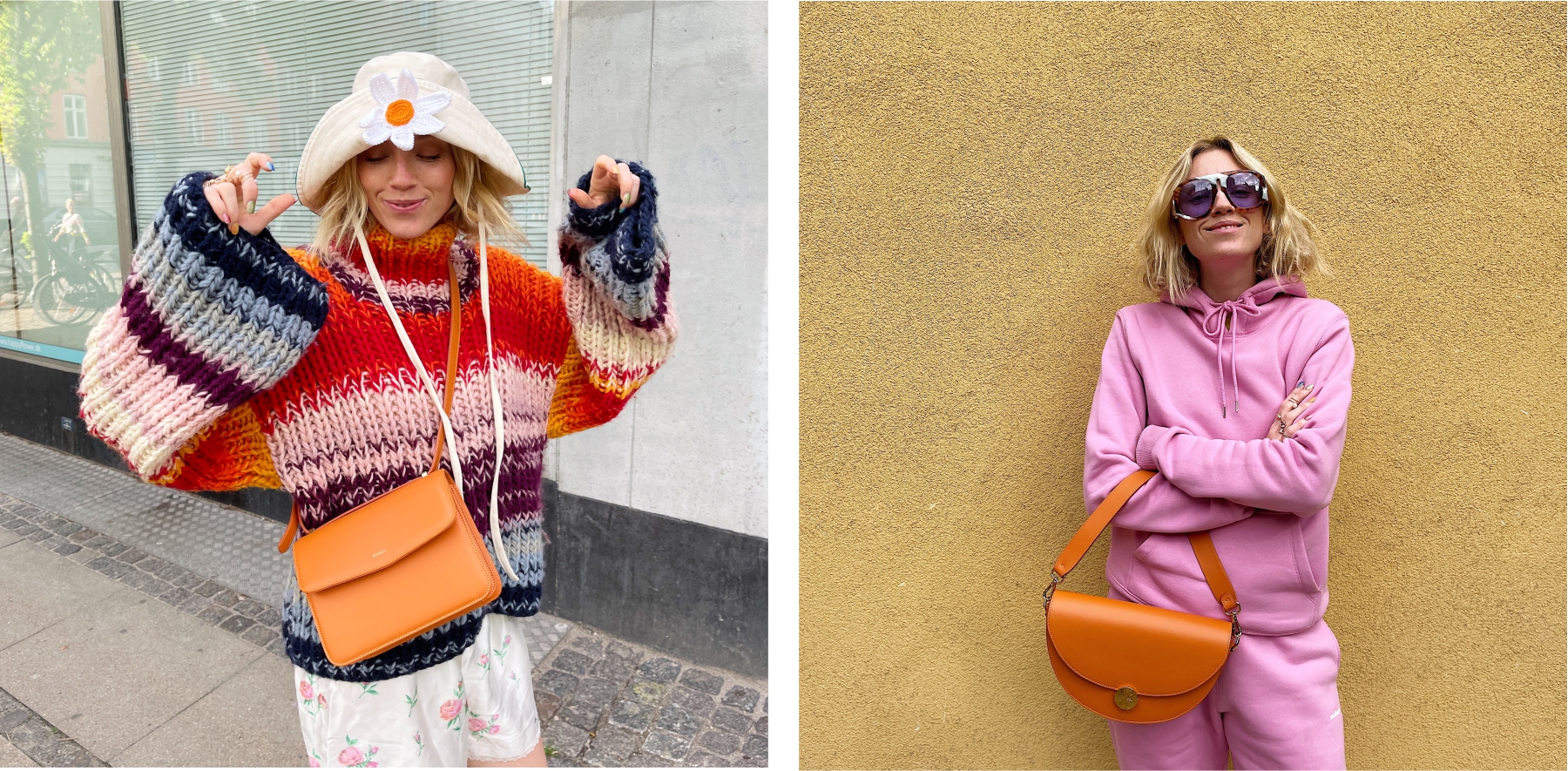 We want to talk to you about the colour orange. As our latest colourway to be introduced across the collection, orange symbolises joy, creativity, enthusiasm, success, vitality and individuality. What do you associate with orange and what influence does this colour have for you?
When we bought our new apartment, the bathroom had to be renovated. We had to make so many decisions and it was very stressful. When we had to decide on the colour, we looked at each other and said: "Not just boring white like all the other bathrooms, right?". And then we went with orange. So, our entire bathroom is orange, and it feels like a sunrise to go in there. It gives me so much energy and now we are obsessed with this colour. We now also have an orange drape in our bedroom and the walls are blue, so it feels like sundown. Sunrise and sunset are my favourite things to watch. When we are in the countryside, I go to the beach to see every sunset – the orange light gives joy and life. So, all in all you might have guessed that I love orange.

Out of all three of our new additions in orange, which style stands out for you and why? How would you style each one?
If I was to choose a favourite out of the three bags it would be ALESSA, because I always find it hard to fit all my stuff into smaller bags. The possibility to just fill it up is perfect for me. ALESSA is your everyday friend; I would style her with everything; filled with my everyday (messy!) life and experience Copenhagen with her on my bike. I also love the simplicity of BELLA. Perfect with a big knit, shorts and sneakers in late summer. NORA is a bit more ladylike; therefore, I think it would be nice in combination with an oversized tracksuit in pink or brown. I like to balance things out, so a ladylike bag is not combined with a fancy dress but something low key.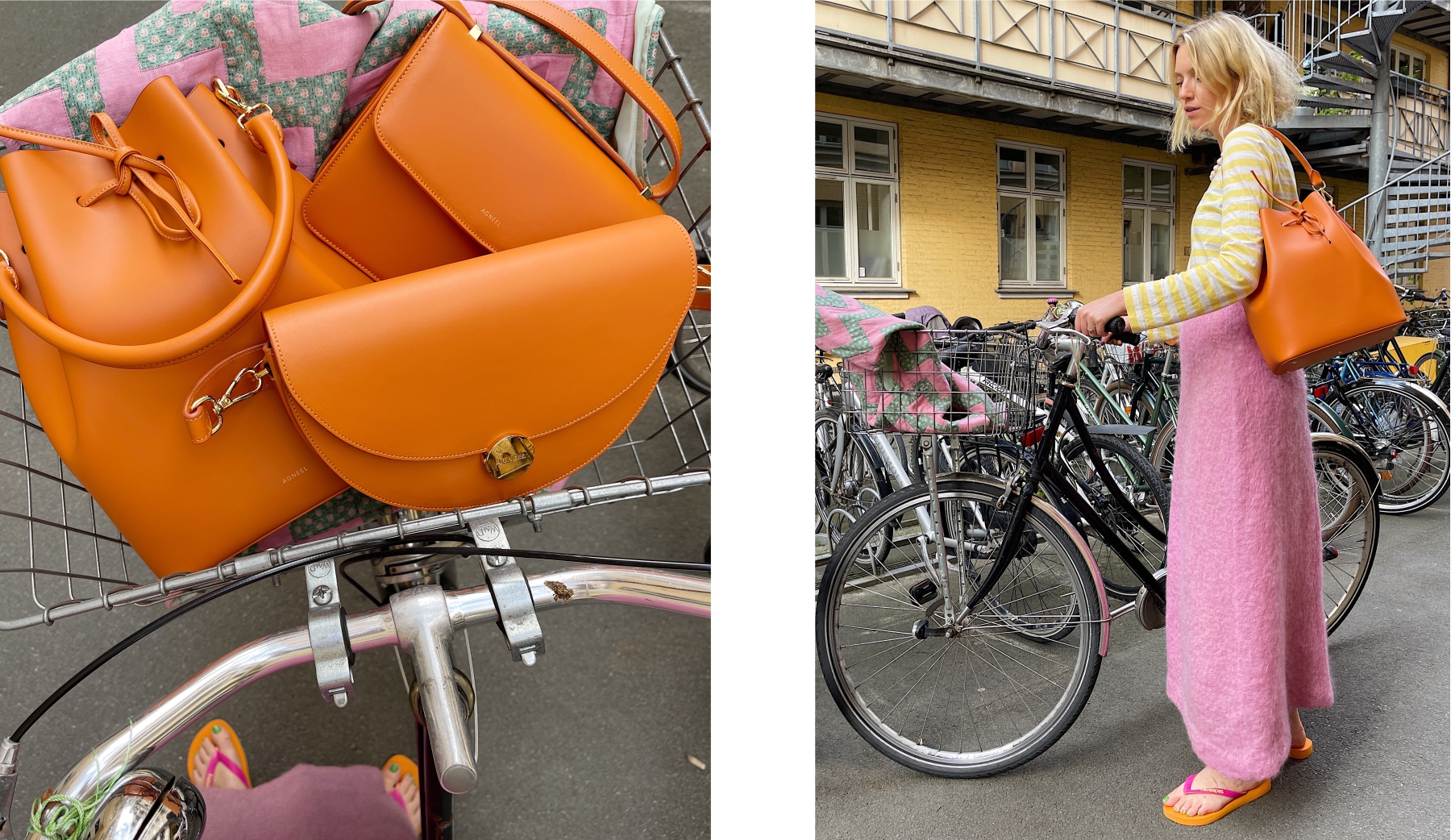 I love that AGNEEL bags are made with a sustainable approach and on top of that the design is super long-lasting, which is sustainable too. What I really like is the fact that even though the design is timeless and made with care for the planet, it is still super fun with a bold colour – because sustainability shouldn't be all boring, if you ask me.

SHOP THE ORANGE COLLECTION