AN INTERVIEW WITH OUR FOUNDER YESIM KARAMAN
With the start of any new year, brings quiet reflection and a time to set upon new goals and visions for what's yet to come. Founder and Creative Director of AGNEEL, Yesim Karaman, shares last year's achievements for the brand as well as her intentions for 2022.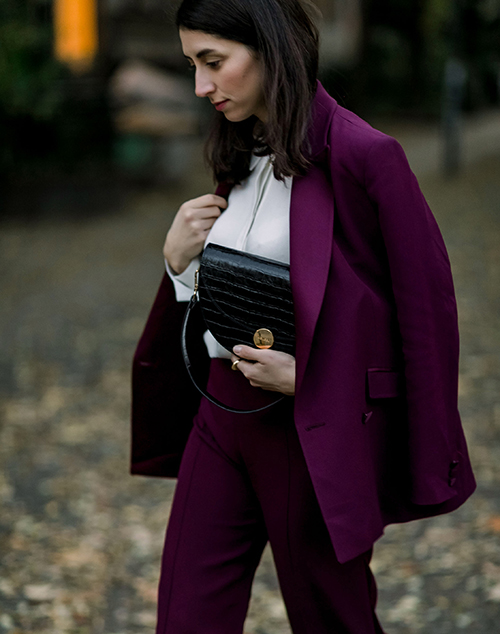 Yesim, describe AGNEEL's journey to date and how it has developed as a brand since its conception in 2016?

It makes me feel very proud to see how far we have come over the last six years and are continuing to grow. When I first established AGNEEL, it was with a defined purpose to offer women something that was both practical yet beautiful and defied time with a seasonless approach to design. To now still be showcasing those designs some years later, as best sellers within our collection, is very special. I love that our customers and followers appreciate them as much as I do.
This last year has been a particularly busy one as it has seen the launch of three new styles – AGNES, AGNES MINI and DENA. I love being able to generate new ideas and watch them come to life, so for me it is important to continue to develop our designs so they are something our customers will want to cherish forever.
In spite of the fragility presented from the ongoing pandemic, 2021 has been a surprisingly successful one as it has seen the most growth with our results. We have worked very hard with our team, continuing to share our brand story and collections, and have been fortunate to work with some wonderful influencers and friends of the brand around the world. In turn, we have gained lots of placements with media coverage in the likes of Vogue, Harper's Bazaar, Financial Times, and Marie Claire which have been very proud moments to see AGNEEL be featured by such globally acclaimed fashion publications.


Where do you think the development of your designs is going and what will focus your collections in 2022?

My aim with AGNEEL was always about longevity; to design bags that were missing from the marketplace that women were searching for, that could sit in their wardrobe for years to come. I love the idea of AGNEEL bags being shared from season to season and between generations, so for me the quality of our products is the most important factor.
That mission still very much remains, but now after six years it's time to take stock and refine things a little. Our brand DNA is very much about offering a core collection of outstanding bags that speak to both women's needs and style, so we are keeping our much-loved iconic designs and will be introducing some new additions along the way; whilst reducing our colourways to showcase mainly our signature earthy tones we are so renowned for. These are the colours I began the brand with, so I feel this pays nice homage to our roots.


What role does sustainability play at AGNEEL?

A vital one, now more than ever. We are all aware of the impact businesses and lifestyles have had on the planet, and how crucial it is for our industry to make greener choices to help eradicate the enormous damage and continued threat that has been made. We live in a fragile world, and we must take accountability for the part we all play in this.
Being a small business, we can only contribute so much, but for me that is about making smart and sustainable choices from the ground up, and I have developed AGNEEL with clear responsibilities in mind. Since beginning the brand, there has been great importance on having a transparent supply chain that complies with both ecological and ethical standards. We offer bags that do not conform to patterns of trend and communicate the importance of investment purchasing and slower consumption to all our customers. That's simply why we create timeless collections with long-lasting, high-quality designs, that are made to treasure for a lifetime.


Are there any goals for AGNEEL you are particularly excited about for 2022?

I am very excited for 2022 because I believe it will be a very special year with many wonderful projects. Of course, I don't want to reveal too much just yet.
As quality control plays such a big part in the manufacturing of our bags, I'm excited by the fact we will be moving our entire production line to Italy. We made a start earlier last year with our styles DENA and NORA, but it will be nice to have all our collections made in the same place. Until now, our bags had been made in an atelier in Izmir in Turkey that I found when I started the brand in 2016, so it's been amazing to have them on the journey with us, but now it's time for a change. Moving forwards, our collections will be made in a family run atelier in Florence. Not only are they true masters of leather craftmanship, lovingly creating our durable bags, but they share our need for a traceable supply chain. For me, making the collections in Italy is essential to promise our customers the expectation of even better quality.
There are lots of ideas I have for the year ahead and for me the most enthralling part is when I turn my vision into a product that we get to launch to our customers. I love to hear the feedback and to see people wearing and styling our designs, and for me this will never grow old. As always, I am eternally grateful for our wonderful customers and loyal supporters of the brand – without them none of this would be possible, so you have my heartfelt thanks for staying on this journey with us. All in all, I'm very much looking forward to the new year and all that awaits us in 2022.